Lukasz Stachowicz S/S 2012 by Joanne Oatts.
Kraków based Lukasz Stachowicz showed a real winner of a collection: presented in an intriguing manner that culminated in a staged tableau. Titled Robinson, he took inspiration from a subsistence lifestyle that was accessorised with real fish, their bloody guts dripping down the catwalk. Crayfish were strung in decorative manner around necks, knitwear featured giant bees and fly fishing hooks stood in as scarf pins. Book-ending the models was a lad with a burning torch, who lit a mock fire in the centre which the models gathered around. Garments were rendered in shades of cream and beige, with rope details on shoulders and waist. I particularly liked a delicate fish print that appeared on swing skirts, shorts and shirts. The headwraps worn by girls were an echo of that worn by the musician, who played enigmatic notes to accompany Robinson on a flattened circular tin drum.

Lukasz Stachowicz by Lesley T Spencer.
In researching Lukasz Stachowicz I have realised that I didn't see his show last season but I had been most impressed by the clothes he presented on his stand at Fashion Week Poland. How fitting then that I should delight so much in his next collection too.

Lukasz Stachowicz S/S 2012. All photography by Amelia Gregory.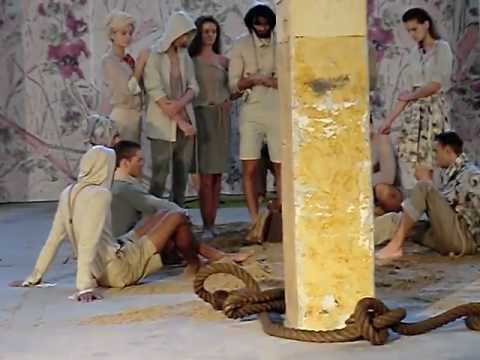 Video by Systeme D.
Categories ,Cracow, ,Crayfish, ,Fashion Philosophy Fashion Week Poland, ,Fire, ,Fish Hooks, ,Joanne Oatts, ,Krakow, ,Lesley T Spencer, ,Lodz, ,Lukasz Stachowicz, ,Off Out Of Schedule, ,Robinson, ,S/S 2012, ,Systeme D, ,Systeme_D

Similar Posts: