Jane Bowler S/S 2012 by Ellie Sutton.
Jane Bowler is a graduate of the Royal College of Art who works in innovative ways with inexpensive and mundane materials, store and she was the first designer to show at the Blow Presents showcase at London Fashion Week. For her S/S 2012 collection she worked in collaboration with knitwear designers Heather Orr, what is ed Victoria Campbell and Victoria Bulmer to create a stunning group of garments inspired by the story of Icarus. Using plastic and latex with soft block-coloured knitted tops and laddered leggings beneath, sale the collection was fearless and fun.

Jane Bowler S/S 2012 by Scarlett Tierney.
Clothing featured fabulous swishing tassels, curled feather like patterns and tufts of feathers in translucent rainbow hues. Sunglasses came with cute coloured eyebrows attached like question marks, a collaboration with Studio Swine. Tight swimming cap hats and high t-bar platforms were also accessorised with rampant plastic additions, and as the show reached a crescendo we were treated to the most fully feathered piece of all: a huge cape worn by a delightfully curvaceous model.

Jane Bowler S/S 2012 by Lisa Stannard.
I loved the unabashed boldness of this thoroughly unique collection, which amongst the more fantastical elements featured some highly wearable pieces. I look forward to seeing what Jane Bowler does next.

Jane Bowler S/S 2012 review. All photography by Amelia Gregory.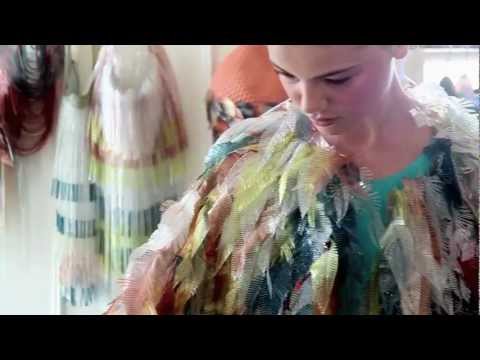 Categories ,Blow PR, ,Blow Presents, ,Ellie Sutton, ,Feathers, ,Heather Orr, ,Icarus, ,Jane Bowler, ,knitwear, ,Latex, ,Lisa Stannard, ,LSO St Luke's, ,Plastic, ,platforms, ,rainbow, ,Royal College of Art, ,Scarlett Tierney, ,Studio Swine, ,Sunglasses, ,Tassels, ,Translucent, ,Victoria Bulmer, ,Victoria Campbell

Similar Posts: