This spring, sales the V&A presents a unique exhibition dedicated the Grand Master Japanese couturier, stuff Yohji Yamamoto. The exhibition will celebrate his life and work, and is the first of its kind in the UK. 30 years after Yamamoto debuted in Paris, the V&A has brought together rare examples of his visionary designs.
Here's an exclusive interview with the exhibition's curator, Ligaya Salazar. You can also read some of Salazar's thoughts below, too.
On process
With this project I started roughly two and a half years ago to work on the idea and the concept behind the exhibition, its also a very particular project because you are working with a living designer who you are doing a single retrospective with, working with their team very closely, so in terms of curating, there is much more of a dialogue there than you would probably normally have with a slightly more thematic show.
The focus was more on to find a concept that would work for him, as a designer, because Yohji Yamamoto is very special in the deign world in terms of the way he approaches designing, so the way you want to show his work should be quite different as well….I spent more time looking at ways of displaying his work, ways of showing his work…
On garment selection
I had the incredible honour to be able to go into both his Paris and his Tokyo archives, the Tokyo archives no curator had ever been to, I had all of his archive to look at and to choose from, which made the editing process incredibly hard…it is something you spend a long time doing, talking to Yohji's team, talking to the designer, making sure you have covered the iconic parts of his career, but also chosen pieces that are most emblematic of the themes that you want to bring out…I stated with an object list that was about six hundred pieces, and that was already a selection of the pieces I saw in the archive and then I had to bring it down to ninety, it was a long and quite arduous process.
On themes
Because it is an installation based exhibition, there isn't a prescriptive story to tell, or a chronology, it was much more about how people would encounter the garments, for the first time what we are doing is to show everything on open display, on the same height as the viewer, so you are meeting your other, rather than looking up and behind glass, it's a very different experience of the clothes.
Yohi Yamamoto is at the V&A and at The Wapping Project until 10th July 2011. Look out for a full review coming soon!

Marnie Scarlet for Ziad Ghanem A/W 2011 by Tigz Rice.
Ziad Ghanem's Never End, sick Never End, Never End was one of those hotly tipped shows that all my contributors were desperate to go to, so I was promised performance catwalking at its best. What I hadn't expected was to land a prime seat right opposite Boy George, looking remarkably svelte next to Daniel Lismore.

Boy George and Daniel Lismore. Photography by Amelia Gregory.
I remember the allure of Karma Chameleon, back when a dodgy video was sufficient accompaniment for pop songs of such genius. Colour by Numbers was actually the VERY FIRST album that I owned, given to me by my aunt on good old cassette tape.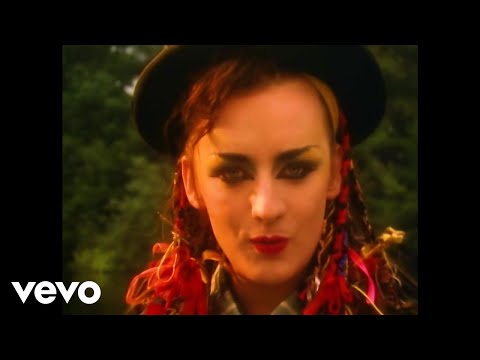 But then, ah, the show!!! This collection was inspired by a horror video game called Silent Hill and the work of Romantic painter John Henry Fuseli, and it explored themes of gothic romance. The press release states that the same garment viewed in a dark, gothic context by one viewer will be interpreted as romantic and liberating by the next.

Ziad Ghanem A/W 2011 by Jessica Holt.
The show opened with a stunning piece of performance, as a red-headed model appeared in gothic Tim Burton-esque make up, black skirts tumbling as she grew before our eyes into a 12 foot monster burlesque bride waving great green feathered fans. Thereafter followed a series of printed, billowing capes and tightly corseted dresses, all accessorised with veils, reddened eyes, cracked cheeks and Joker smiles. Apparently Ziad asked each model to choose their own favourite horror film make up for the show.

Ziad Ghanem A/W 2011 by Jamie McGregor.
Androgynous models wore chiffon and beaded dresses, a spooky ghost couple trailed rumpled netting behind as they faced the photographers together. Amidst the drama cleverly made outfits showcased traditional haute couture skills using bias cut vintage silk chiffons and duchess satin that flowed around the body.

Ziad Ghanem A/W 2011 by The Lovely Wars.
A white faced creature smeared its face with black paint and make up took a turn towards our feathered friends: blue winged eyes echoing the giant bird prints on winged dresses. Out stepped a ballet dancer on pointe, edging down the catwalk in frilled lilac, her skull face shrouded in grey. As she retreated backwards a series of busty ladies swept down the catwalk in eminently wearable multi coloured chiffon dresses: amongst them walked transvestites, burlesque artists and a giant lady in grey. I particularly adored the bustle backed electric fuchsia number that emphasised every womanly curve.

Ziad Ghanem A/W 2011 by The Lovely Wars.
Taking the art of the catwalk to fantastical heights, Ziad Ghanem proved that his shows really are worth the hype, with or without the added bonus of an 80s pop idol in a fabulous yellow fedora. You can read more about his unique selection of models here.

Ziad Ghanem A/W 2011. Photography by Amelia Gregory.
You can also read Florence Massey's review of the Ziad Ghanem show here.
Categories ,ballet, ,birds, ,boy george, ,Burlesque, ,Chiffon, ,Colour by Numbers, ,couture, ,Daniel Lismore, ,Fashion Scout, ,Florence Massey, ,gothic, ,Helen Crawford, ,Horror, ,Jamie McGregor, ,Jessica Holt, ,John Henry Fuseli, ,Karma Chameleon, ,Marnie Scarlet, ,Never End, ,Romantic, ,Silent Hill, ,The Lovely Wars, ,Tigz Rice, ,tim burton, ,Transvestite, ,Ziad Ghanem

Similar Posts: