ACOFI Lily Vanilli cake by Andrea Peterson.
Over the past few days a steady trickle of fabulous illustrations from the ACOFI launch night party (read my review here) have been flooding into my inbox… and I've been wondering how best to put them all together. In the absence of a better plan I have decided to plow through them alphabetically… So without further ado I present to you the wonderful artwork of Andrea Peterson, pharmacy prescription also known as Artist Andrea, seek also responsible for the cover art of ACOFI. She travelled all the way from Arizona to be with us on the launch day and I think that everyone was absolutely awed by her ability to create beautiful images from just a few dabs of watercolour, live, in front of a huge crowd.
You've already seen this image of Jessica Bumpus from Vogue but why not show it again? I think it's absolutely beautiful… and I love the way that Andrea has made her a Vogue cover star. Bring back illustrated covers indeed! So elegant and glamourous. You can read Jessica's wonderful blog about the event on the Vogue Green Style Blog here. Thankyou so much Jessica!

Jessica Bumpus of Vogue by Andrea Peterson.
The lovely Alexandra Haddow very kindly provided us with Pukka teas and helped out all afternoon: she is rather fittingly illustrated with tea cup in hand. She also managed to do a lovely write up of the event on LDNfashion online, and we hope she will be joining our little fashion team soon as well.

Alexandra Haddow of Pukka Teas by Andrea Peterson.
Then there's Lupe Castro: fashion stylist and freelance writer. I love her colourful vintage Pucci outfit.

Lupe Castro by Andrea Peterson.
Francesca from Forward PR looks so demurely wonderful holding her copy of ACOFI, which she did so well in selling on the night. I loved her energy, so positive. What a lovely girl.

Francesca of Forward PR by Andrea Peterson.
Here's Nyla of Ethical Heaven – she writes a blog about sustainable style and beauty, and you can read her fab write up of the launch party here.

Nyla of Ethical Heaven by Andrea Peterson.
And lastly here again is a reprise of The Pipettes: who unsurprisingly inspired more than a few illustrators to get their pens and paint brushes out. Ani Saunders is herself a very talented illustrator, and she has her own blog called The Lovely Wars, where she has written about the book, complete with her own unique rendition of Andrea's cover. Take a gander here.

The Pipettes by Andrea Peterson.
Thankyou Andrea so much for coming to visit us in the UK and showcasing your incredible talent live! I look forward to working with you for many moons to come. You can follow Andrea on twitter on @ArtistAndrea and don't forget you can buy Amelia's Compendium of Fashion Illustration here, with a special 10% if you use the discount code ACOFI LAUNCH up until the 28th February 2011. Lastly, here's my interview with Andrea on youtube, accompanied by rescue chihuahua Frida (I had to heavily edit out all the bits where I was cooing over the chihuahua). Enjoy!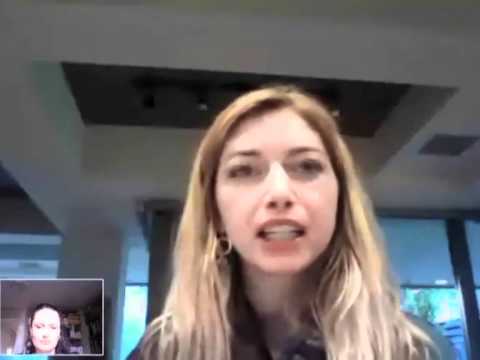 Categories ,123 Bethnal Green Road, ,ACOFI, ,Alexandra Haddow, ,Amelia's Compendium of Fashion Illustration, ,Ani Saunders, ,Artist Andrea, ,Bunker Cafe, ,Chihuahua, ,Ethical Heaven, ,Forward PR, ,Francesca, ,Frida, ,Green Style Blog, ,Jessica Bumpus, ,Lily Vanilli, ,Lupe Castro, ,Nyla, ,Pucci, ,Pukka Teas, ,The Lovely Wars, ,The Pipettes, ,vogue

Similar Posts: