Shonen Knife by Sally Jane Thompson
After a month long tour around Europe which kicked off in, information pills of all places, more about Brixton's Windmill, viagra Shonen Knife arrived at the Scala for their 30th birthday bash. Originally formed in Osaka by sisters Naoko and Atsuko Yamano, along with their friend Michie Nakatani, and influenced as much by 1960's girl groups as by punk bands (especially the Ramones), Shonen Knife created an energetic, upbeat, irresistibly catchy yet still underground sound (packaged in colourful, often homemade outfits). Their music made its way to the US alt-rock scene and they eventually found unlikely champions in such luminaries as Sonic Youth and, especially, Nirvana's Kurt Cobain (who invited Shonen Knife on a tour of the UK in the early 90's). Now on their (at the last count) eighteenth studio album (a set of classic Ramones covers), Shonen Knife were back in town and ready to rock Kings Cross.

Shonen Knife by Fi Blog
I'd first caught Shonen Knife at their Windmill gig in August (I think only their second or third in London in around 15 years) when they were in the guise of the Osaka Ramones, and it was an exhilarating run through of the Ramones' finest. The Windmill was pretty rammed that night and, filing into the auditorium of this old cinema with our special Shonen Knife wristbands, I could see that the Scala was going to be pretty busy too.
The trio cheerily took to the stage holding bright orange scarves aloft, and then we were underway. On lead vocals and guitar, Naoko is the only remaining founder member, but she is more than capably supported by the ever smiling Ritsuko Taneda on bass, and the band's newest member, Emi Morimoto, is certainly no slouch on drums.

Shonen Knife by Claire Kearns
Kicking off with Konnichiwa and Twist Barbie, Shonen Knife started as they meant to continue – fast and frenetic. Their songs may be uncomplicated, they may be about such everyday things as candy or furry animals, but they're played with such energy and delivered with such enthusiasm that even the biggest grump would find it hard not to enjoy them. Shonen Knife are all about fun!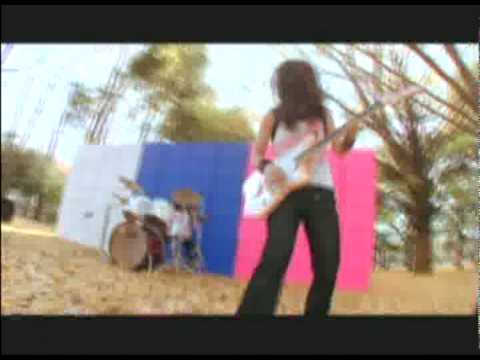 As well as assorted gems from their back catalogue, there were a couple of tracks from their more recent albums, such as Super Group, the reggae-ish and intensely catchy Capybara (about, yes, a furry animal) and Perfect Freedom (both from last year's Free Time LP). Ritsuko took time between thrashing her bass for lead vocals on Devil House, whilst Emi was also on vocal duty for the very 1960's sounding I Am A Cat. Naoko was not to be outdone by the youngsters as Shonen Knife properly rocked out at the end of the set with Economic Crisis (see, they don't just sing about furry animals!), which had just a hint of Motörhead about it, and Cobra Vs Mongoose.

Shonen Knife by Louise Wright
To the particular delight of the mosh pit that had formed in front of Naoko, the band returned as their alter egos, the Osaka Ramones, and, with Ritsuko once again on lead vocals, launched into Sheena Is A Punk Rocker. Emi took over for The KKK Took My Baby Away before we headed, inevitably (and with the help of a stage diver), towards Blitzkrieg Bop. I'm pretty sure the whole of the Scala was shouting "hey ho, let's go!" There was no rest for Shonen Knife, though, as they straight away headed to the foyer to sign autographs for the throng of ecstatic (and exhausted) fans afterwards.

Shonen Knife by Gabriel Ayala
As Shonen Knife return home to Japan for some more shows, and with the prospect of a US tour on the horizon, it certainly looks like the party isn't over just yet!
Categories ,alt-rock, ,Brixton, ,Claire Kearns, ,Fi Blog, ,Gabriel Ayala, ,Girl-Groups, ,japan, ,Kings Cross, ,Kurt Cobain, ,Louise Wright, ,Motörhead, ,nirvana, ,Osaka, ,Osaka Ramones, ,punk, ,Ramones, ,Sally Jane Thompson, ,Scala, ,Shonen Knife, ,Sonic Youth, ,underground, ,Windmill

Similar Posts: