Photography by Andy Keate.
The Nathalie Djurberg exhibition at the Camden Arts Centre greets you with a rainbow-like ceiling installation, before plunging you into an altogether darker space.

In the middle of the first room, three large tables are lit, displaying hundreds of glasslike objects – vessels, urns, vases and household cutlery. Djurberg has said she wanted to create a shipwreck effect, but another way of describing the translucent odds and ends collection is that it's like stumbling upon the Snow Queen's dining room. It was tempting to reach out and touch the objects, painstakingly produced from manmade materials, but I held back, convinced they might break.

Photography by Andy Keate.
At either end of the room two different films are projected, displaying images of creatures from fairytales and myths: bulls, elks, foxes and horses. These animals are in fact puppets moulded from clay, and the attention to detail Nathalie Djurberg has paid in terms of their movements, textured fur and colour means that they are compelling to watch. In one film, a horse brays over a naked woman and in another, a woman is licked by what looks like an ox, melting, speaking and interacting with the animal at the same time.

Images directly above and following courtesy of Zach Feuer Gallery New York, Galleria Gio Marconi Milan.
Both films are primal, with much gnashing of jaws, reminding me of Roald Dahl's book Dirty Beasts. Limbs are lost and subconscious desires considered, but there are no firm morals or outcomes. Rather, this is an exploration about what it might be like to be trapped in a parallel universe made of glass.

But these are only the visual aspects. In the background, Hans Berg's soundtrack starts with a gentle electronic pulse which builds throughout the duration of the five-minute-long films. The percussive soundscape is interspersed with glass taps and smashes, holding the installation together in a perfect balance. At the main entrance to the Camden Arts Centre, you can watch a recorded interview between Djurberg and Berg. It supports what is made clear in this exhibition –that this is a magnificent partnership between two artists who truly understand and complement one another's work.

Around the corner is another room containing further objects and two additional films. Here, crocodiles emerge from a bubbling jelly cocoon, and a naked body is hidden within a hippo's mouth. Scrawled speech bubbles declare 'I will eat youre leftovers', which is both amusing and terrifying in a violent, shaky picture. Opposite, we can watch a proverbial bull in a china shop, including miniature versions of the glassworks actually on display. It comes to a bloody end after cutting itself on broken glass, and the frame is flooded with red.

Djurberg's installation is enthralling, a kind of playful goriness in vibrant colour. If you're interested in finding out more about her previous works, be sure to check out Jenny Roper's 2009 Venice Biennale review for Amelia's Magazine.

An interview with Nathalie Djurberg and Hans Berg at the Walker Arts Center.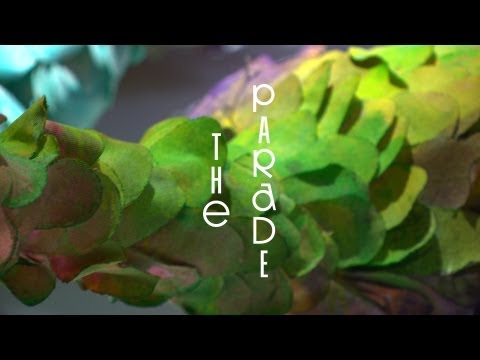 With free admission and the chance to watch further Nathalie Djurberg films in the Reading Room, you'll want to get along while you can: on until 8 January 2012 at the Camden Arts Centre, London. Read our full listing here.
Categories ,Andy Peake, ,animals, ,art, ,Camden Arts Centre, ,Collection of Hadle, ,Dirty Beasts, ,Galleria Gio Marconi Milan, ,Glass, ,Hans Berg, ,Jenny Roper, ,Nathalie Djurberg, ,Reading Room, ,review, ,Roald Dahl, ,Snow Queen, ,Sound installation, ,video, ,Walker Arts Center, ,Zach Feuer Gallery New York

Similar Posts: