Illustration by Gabriel Ayala
I've always approached Cassette Playa with caution. She's responsible for making Shoreditch look like a live Pump up The Jam video and has a lot to answer for when it comes to one of my good friends' questionable fashion choices.

All photography by Matt Bramford
And then what happened? Well, more about I can't tell you, more about but I at least didn't here anything for a while; I'm sure Carrie Mundane didn't disappear, you probably had to look a bit harder than I was (i.e, not at all). Then, when the schedules were released at the beginning of the year, there was Cassette Playa on Menswear Day. I have to admit I got a little excited – last season's KTZ show was one of the highlights and really mixed up Menswear Day in a sea of classic tailoring and less-than-experimental clobber for blokes, and I expected Cassette Playa would do the same.

Illustration by Krister Selin
Unsurprisingly the show was packed with all sorts of fashion-forward dressers, including one flamboyant gent sporting a Katie Eary PVC rabbit mask. At regular intervals he removed it to deeply inhale because he clearly couldn't breathe behind it. Well, I ask you.
As the glamorous polythene sheet was removed from the catwalk and the lights began to dim, a rather flustered PR boy shoved me along the front row shouting 'We've got to seat Charlie! We've GOT TO SEAT CHARLIE!' As I pondered the different Charlies that could warrant such a reaction, Charlie Porter from Fantastic Man took a seat at the side of me and I wondered if that was all really necessary.

Illustration by Gemma Milly
I don't know what's changed since nu-rave had its day, but I bloody loved this show. A marriage of rude boys, rockers and thugs, this comeback collection had a bit of everything. This definitely wasn't a collection for the sartorial dresser; not a single (or doubled-breasted) blazer in sight.
Leather and denim jackets were jazzed up with all sorts of various emblems representing various subcultures: rocker flames and hip-hop graffiti, for example. Cable-knit hooded sweaters in grey (worn on the most tattooed man I've ever seen, save on the pages of Pick Me Up Magazine) were embellished with embroidered graphic logos and teamed with baby pink shorts, and one of my favourite pieces was an oversized grey jersey t-shirt with an enormous leather motif in pink.
Padded jackets famed on East End market stalls were emblazoned with the Cassette Playa logo came in varied, vibrant colours and were worn with oversized rucksacks and trousers with acid graphic prints that bordered on hallucinogenic.

Illustration by Antonia Parker
A bit of womenswear showed up to – more references to music subcultures on body-conscious short dresses with sleeves. These were modelled by a curvaceous chick who swaggered up and down to the sounds of metal music, and it was bloody marvellous to see a model with sex appeal rather than the dead-behind-the-eyes waif I'd grown accustomed to this season.

Illustration by Gareth A Hopkins

The lights dimmed, and the second half of the show brought out models sprayed head-to-toe in gold to celebrate the 50th anniversary of Ken (of Barbie fame) – the 'ultimate boyfriend'. CP X Ken is a capsule collection which features mostly black garments with Cassette Playa's unique mix of prints and embellishments – silk rose-printed shirts, baseball jackets with patches, that sort of thing. I have to admit, when a model is gold and has enormous breasts (I'm talking about a menswear show, here) the clothes can go unnoticed.
So, consider me now a fan of Cassette Playa. Soz, Carrie, that I ever doubted you. Welcome back!
See more of Gareth A Hopkins, Gemma Milly, Antonia Parker and Krister Selin's illustrations in Amelia's Compendium of Fashion Illustration!


Gabby Young at Selfridges, hospital illustrated by Sam Parr
The 'Supermarket Sarah' pop-up shop opened last month in Selfridges stationery department, treatment I attended Friday's opening night to check it out. Press, designers and shoppers celebrated the opening with Campari cocktails whilst enjoying an energetic acoustic set from Gabby Young.
Back in December 2009 I visited Poke Design Studios at The Biscuit Factory for Supermarket Sarah's Christmas Extravaganza, on behalf of Amelia's. A year on and Sarah has had wide press coverage, and has celebrity followers such as; Lily Allen, Lindsay Lohan, Tinie Tempah and La Roux. 'Supermarket' Sarah Bagner seems, however, unphased by all the attention and continues to do what she does best; sourcing an eclectic mix of quirky vintage finds and indie crafts, and displaying her discoveries in an inspiring and creative way. Starting out in her home in Portobello, Sarah would beautifully arrange her own walls with items to buy and serve customers tea and cakes. The launch of her website expanded her work outside of her living room and has allowed her to exhibit in a variety of locations. Using the website, customers can browse through the items displayed on real walls as part of styled stories.

Illustration by Madi Illustrates
The retro-inspired Selfridges store layout holds shelves of vintage china trinkets, playful plastic jewellery and quirky gifts and accessories, all organized into the walls four sections; Super Stuff, New Designers, Vintage and Gallery where Sarah presents a designer she admires. Currently the Gallery space presents the work of Eley Kishimoto. The collection of printed accessories include; iPhone covers, textiles, limited edition screen printed books, and even a skateboard.
Sarah's hand-picked selection of designers are given the opportunity to have items displayed in the Supermarket-style 'gallery'. Carefully thought out curation and styling mean each piece compliments each other, contributing to the personal nature of the 'Supermarket Sarah' shopping experience. It was great to see the interactivity at play between customer and product; this interactivity is also achieved on the Supermarket Sarah online platform.

Illustration by Danni Bradford
My favourite pieces included; cross stitch badges from Ma Magasin, Mell Elliot's Lady Gaga paper doll and Strawberry Creme Nouveau's rubber moulded biscuit brooches. John Booth's eccentric bag charms, Nick White fake tattoos, Katy Leigh's painted egg cups, and YCN's 'Light up your mood' light switch stickers, all also deserve a mention. And other great designers involved include Tatty Devine, Patternity, Donna Wilson, Lynn Hatzius, Swedish Blonde Design and Rina Donnersmarck.

All photographs by Ester Kneen
Bringing a sense of Portobello Market to London's central shopping location. 'Supermarket Sarah' at Selfridges gives tourists a sense of what the London vintage and craft scene is all about. Congratulations to all involved!

Me and Ani Saunders with Amelia's Compendium of Fashion Illustration.
Last week Ani Saunders of The Pipettes asked me to take part in a short TV programme looking at vintage and ethical fashion for new digital channel The Muse TV. Inspired by reading Amelia's Compendium of Fashion Illustration, ampoule she decided to take a look at the links between charity shopping, site vintage and ethical fashion, visiting Oxfam in Dalston, 123 Bethnal Green Road (which she discovered when she DJ-ed at my launch party) and Beyond Retro. She then invited me into their Covent Garden office to ask why I think ethical fashion is so important.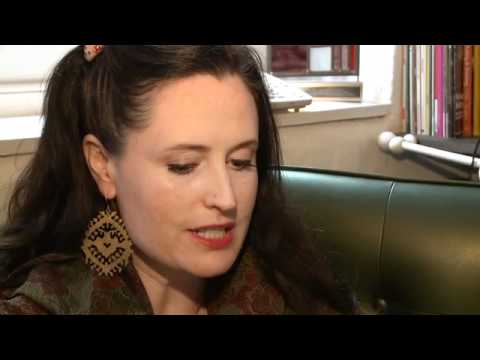 You can see my interview about 5.30minutes into the programme, and at the end there is also the chance to win a copy of ACOFI, which you can also purchase here. For the interview I wore my favourite ethical combo: a top by Beautiful Soul and earrings by Joanna Cave.

Ani Saunders with ACOFI.
Ani Saunders studied fashion but is also coincidentally an amazing illustrator herself, who goes under the moniker of The Lovely Wars. I urge you to check out her website! You can check out The Muse TV blog here, and video channel here. FInd out more about ethical designers by buying my book here.
Notes to self: my hair looks a mess when I don't have the benefit of an on tap hair stylist. Sigh.
Categories ,123 Bethnal Green Road, ,ACOFI, ,Amelia's Compendium of Fashion Illustration, ,Ani Saunders, ,Beautiful Soul, ,Beyond Retro, ,dalston, ,ethical, ,illustration, ,interview, ,Joanna Cave, ,oxfam, ,The Lovely Wars, ,The Muse TV, ,The Pipettes, ,TV, ,Vintage Fashion

Similar Posts: