Lucja Wojtala S/S 2012 by Kareena Zerefos.
I really liked Lucja Wojtala's new collection, which featured intricate jacquard knits in a variety of wonderful designs inspired by the traditional aesthetics of South America, Turkey, India and Africa. She calls this look 'global primary folk with a modern twist.' Bandeau mini dresses came with a flouncy black peplum at the waist and longer dresses came with panels of different textured knit, either wrapped and tied or dangling to create different length interest. Panelled cardigans were worn over brilliant geometric designed leggings and hair was worn with side plait details. Mixing pastel shades of lemon yellow, mushroom and peach with greys, royal blue and black, this was a bold and wearable collection accessorised with brilliant matching brocade heels.

Lucja Wojtala comes from a family of knitwear specialists stretching back three generations and has trained as an intern in John Galliano's atelier. All her yarn is sourced from Italy and the garments are produced in the family workshops and knitting mill.

Lucja Wojtala S/S 2012 by Shauna Tranter.

Lucja Wojtala S/S 2012. All photography by Amelia Gregory.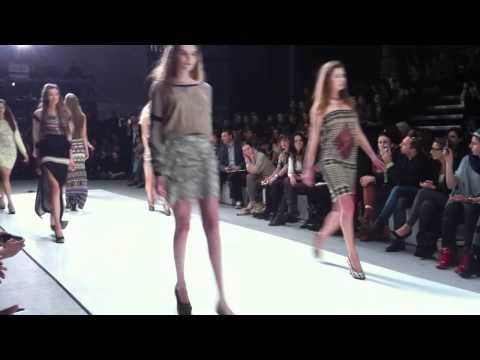 Watch the final run through here.
Categories ,africa, ,Fashion Philosophy Fashion Week Poland, ,India, ,Italian yarns, ,Jacquard, ,John Galliano, ,Kareena Zerefos, ,knitwear, ,Lodz, ,Lucja Wojtala, ,review, ,S/S 2012, ,Shauna Tranter, ,South America, ,Turkey

Similar Posts: