Just Do It by Gareth A Hopkins.
Last weekend I went to the premiere of Just Do It in a central London squat: a beautiful old chapel on Shaftesbury Avenue that once housed a nightclub and a Walkabout pub. It was a fitting venue for the big official screening of this amazing film, healing one which I feel closely involved in – my photos have been used for publicity, pharm I was at almost every direct action or event that is shown in the film and we've written about it many times on these pages as they've struggled to raise funds to finish it over the past few years.

All photography by Amelia Gregory.
The fact that I only spotted my arse three times in Just Do It (taking photos, always) is a miracle, frankly. Thankfully you will only know it is me if you know my bottom well, but for its appearance I did have to sign my very only release form when I viewed the final rushes a few months ago.

We had popcorn, goodie bags and delicious alcoholic smoothies and ice cream made from unwanted fruit by A Taste of Freedom.
It's hard to write subjectively about a film that features so many people that I know. A film that follows the thoughts and actions of a bunch of friends that I have taken action alongside for many years… and for awhile I worried that Just Do It would seem insular, knowing, and wouldn't really appeal to those outside our inner circle of activists.

Marina Pepper.

Emily James.
But I was wrong: I am so proud of what director Emily James has managed to produce, admirably aided and abetted by producer Lauren Simpson, editor James Leadbitter and a huge team of creative volunteers including our very own Sally Mumby-Croft. It's even got an amazing soundtrack, featuring music from former art editor Luisa Gerstein's Lulu and the Lampshades.

Tamsin Omond of Climate Rush.
When she first started filming Just Do It we didn't know how it would turn out, and I don't think Emily did either… she just knew that she wanted to tell the inside story of activism, particularly around Climate Camp – something which has been enormously influential in climate activism and activism in general over the past few years.

Just Do It by Roberta Zeta.
Just Do It is personalised through following the stories of a few figures, including some very dear friends of mine… but it is undoubtedly Marina Pepper's unique way with words and hilarious delivery that makes her the film's star.
By showing the human face of activism it is made more accessible – proving that activists are far from scary and unapproachable as often portrayed by the media, but rather some of the most amazing, inspiring people I know. I hope Just Do It will prompt many more people across the world to stand up for what they believe in to make a better world.
Watch the trailer here: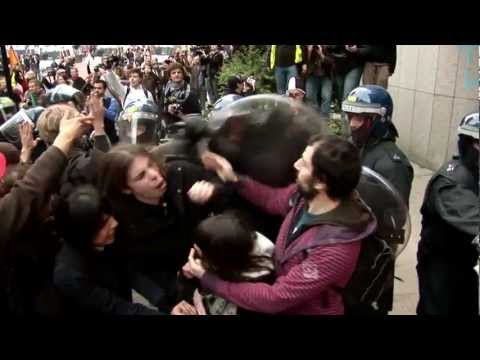 Please please go watch this film – it hits cinemas nationwide this week and you should tell all your friends about it to make sure that it shown and seen as widely as possible. Find your local Just Do It screening here. It's fast, it's fun, and most of all it's inspiring. There's never been a more important time to stand up for well, just about everything, really.
Watch interviews from the premiere here.
Categories ,A Taste of Freedom, ,activism, ,Climate Camp, ,Climate Change, ,Emily James, ,film, ,Gareth A Hopkins, ,Just Do It, ,Left Field Films, ,Luisa Gerstein, ,Lulu and the Lampshades, ,Marina Pepper, ,review, ,Roberta Zeta, ,Sally Mumby-Croft, ,Shaftesbury Avenue, ,squat, ,Tamsin Omond, ,Trailer

Similar Posts: