OPI shatter nail polish collaboration with Olivia Rubin by Novemto Komo.
I do like a press day where you can get your hair and nails done, price so despite my lack of time I decided to swing by South Molton Street yesterday to visit Olivia Rubin, who was greeting all visitors personally – what a nice touch. No high falutin' designer here, plus she was very good about my review of her A/W 2011 catwalk show, which mainly banged on about the high celebrity quotient.

Olivia Rubin at her A/W 2011 press day.
Usually there is a massive queue for free grooming but I chanced upon a lull having missed, by mere minutes, a whirlwind visit from The Only Way Is Essex pop group Lola. Damn. They were the ones who distracted me at her A/W 2011 catwalk show. Actually, maybe it's a good thing I missed them.

Olivia Rubin by Liam Mcmahon.

Olivia Rubin bespoke cupcakes by Cute as a Cupcakes. Always the cupcakes… but I have to admit these really were a stunning compliment to her new collection.
Anyway, I decided to grab the opportunity to try out the new OPI shatter collection produced in collaboration with Olivia Rubin and for sale in exclusive colour combinations at ASOS and other stores soon. It's a great idea because Olivia is known for her bold use of animal prints and this looks a bit like a leopard print from afar.

Olivia Rubin by Liam Mcmahon.

Olivia Rubin shatter nail polish collaboration with OPI. Nice bright colours as always.
Did you know that OPI takes its name from the dental company whence the first nail products sprang from? Back in the early 1980s George Schaeffer took over a dental supply business called Odontorium Products Inc, and quickly realised the potential for transferring the technology behind acrylic dentures into the crafting of false nails. Not very sexy eh? But that's the way it rolls in the beauty industry. Happily, OPI do not test on animals.

Olivia Rubin's elegant nails.

Hmmmm, my not very elegant hands.
Since then they've built a huge nail brand, famed for its brightly coloured nail polishes with fun names. OPI technicians have been helping out backstage at various fashion shows during LFW, and they take care of famous pop personalities such as Katy Perry and Alexandra Burke, who have their very own nail technicians on hand at all times, except, that is, when they are sorting out my stubby sausage hands. My nails were done by Alexandra Burke's *actual* nail technician, get in. She won the X Factor a few years back in case you were wondering.

Here's a pic of my paws: the effect is really most captivating. I can't stop looking at them!
The shatter nail polish is apparently all the rage, though in my backward way I had never heard of it and sat there transfixed as Alexandra's right hand man painted the second coat onto my nails and it mysteriously cracked in front of my eyes: the chemicals reacting to the first coat below. After that he used a very cunning product called Drip Dry Lacquer Drying Drops, which drops on top to dry nails almost instantly. Clever, these dentist types. The shatter nail lacquer comes in black and silver to create fun effects on top of other colours.

Lovely hair stylist from the Rush Hair Salon.
After that I decided to get my hair blow-dried by a lovely girl called Isobel from Rush Hair salon: love that vintage dress she's wearing. I do wish that I could make my frizzy hair look so sleek and glossy myself, but I have to admit that it's way more relaxing to get someone else to do it for me!
It was really nice to see the new Olivia Rubin collection up close, to feel the satin silks and admire the screen prints which she does herself. I particularly liked the fine gauge knit jumpers featuring Olivia's signature brick and speech bubble 'prints' and she's also done some lovely shoes in collaboration with Dune.
Keep an eye on this one because she's a savvy business lady, and for sweet idiosyncratic dresses and tops she's right on track: Olivia Rubin is now stocked in 50 stores across the UK and globally.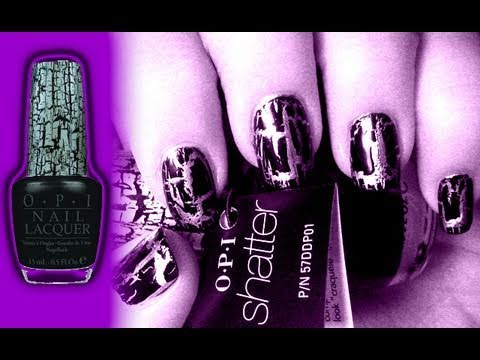 Do the shatter polish y'all.
Olivia will be finishing off the next collection over Easter, and her OPI collaboration should be available soon. I look forward to trying out Overexposed in South Beach, which joins Suzi Loves Cowboys and Wing It! from LFW goody bags. Now I've just got to find time to paint my nails more often myself.
Categories ,A/W 2011, ,Acrylic, ,Alexandra Burke, ,ASOS, ,Beauty, ,Blow Dry, ,Celebrity, ,cupcakes, ,Cute as a Cupcake, ,Drip Dry Lacquer Drying Drops, ,Dune, ,Easter, ,George Schaeffer, ,Katy Perry, ,knitwear, ,lfw, ,Liam McMahon, ,Lola, ,Nail Lacquer, ,Nail Polish, ,Nails, ,Novemto Komo, ,Odontorium Products Inc, ,Olivia Rubin, ,OPI, ,Overexposed in South Beach, ,prints, ,RUSH Hair, ,Shatter Nail Lacquer, ,Shatter Nail Polish, ,South Molton Street, ,Suzi Loves Cowboys, ,The Only Way is Essex, ,TOWIE, ,Wing It!

Similar Posts: