You've read the first part of my London Art Fair 2012 round up, now catch up with the rest… starting with Elisabeth Lecourt of Byard Art in Cambridge who creates gorgeous dresses from maps. (I told you maps were big news.)

I'm always a bit of a sucker for pearlescent materials: Chris Wood (also with Byard) favours the medium of Dichroic glass for angular abstract patterns.

It's great to see an upsurge of interest in textile art. Claire Moynihan works in detailed felt and embroidery, and is best admired up close – her 'moth balls' are beautiful.

On the second floor of the exhibition I was able to pop in on Justin Hammond, hosting a display of great new Catlin Guide commissioned art pieces.

My favourites have to be Hannah Harkes (with a cowboy snogging an Indian) and the naif folk art of Tom Howse.

Next door Chris Pensa of Love Art London talked me through some of his upcoming tours – check out their website for ideas, I fancy me a tour with the fossil hunter! Read my review of an earlier tour here.

A strong theme of disaffection unsurprisingly runs through many artworks, including Laura Jordan's Run Riot Run, an intricate map of the riots, shown with Galleryone.

Oona Hassim took as the starting point for her oil painting a photo of the Anti Cuts Demo in March 2011 in Piccadilly Circus. If I'm not much mistaken this is the UK Uncut parade that led to Fortnum & Mason – despite the blurry feel I recognise it, because I was there – those flags are a dead giveaway. The pieces are oddly energetic and beautiful but how odd to see direct action flogged as fine art!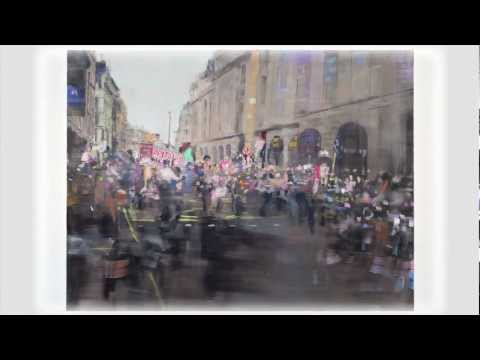 You can watch a short film showing her making the initial sketches here. She has an exhibition opening this week at Woolff Gallery.

At Woolff there was lots of upcycling going on. Special mention goes to Joanne Tinker who created rows of goblets out of sweet wrappers.

Susila Bailey-Bond is another butterfly papercut artist, concentrating on their decorative qualities.

Jess Littlewood at The Contemporary London collages together monochrome otherworldly scenes that are very 'now'. Like a lot.

Porcelain, ink and wool are the preferred medium of artist Juz Kitson, who created wall installations of skulls, pulsating hearts and corals.

For the Cynthia Corbett Gallery Ghost of a Dream have produced an amazing collaboration that I first spotted at the graduate art fairs that I visited in abundance last year. The installation uses lottery tickets and the covers of romance novels, which are glued in patterns onto panels, mirrors and chandeliers.

Irish/Carribean artist and film director Zak Ove at Vigo Gallery cobbles together found objects to create religiously inspired ensembles.

At Bearspace I recognised Reginald S Aloysius from the 2011 Jerwood Drawing Prize. His overgrown temples are intersected by the paths of cross atlantic planes.

Jane Ward imagined a disturbed dystopian future of exploding buildings. I hope we don't end up there!

Lastly I can't go without mentioning the huge Nomad light sculpture by Beau McClellan in the entrance to the design centre: yours for just 250,000 euros. One for those Russian oligarchs me thinks.
Categories ,2012, ,Bearspace, ,Beau McClellan, ,Byard Art, ,Chris Pensa, ,Chris Wood, ,Claire Moynihan, ,craft, ,Cynthia Corbett Gallery, ,Dichroic Glass, ,Elisabeth Lecourt, ,Fortnum & Mason, ,Galleryone, ,Ghost of a Dream, ,Hannah Harkes, ,Islington Business Design Centre, ,Jane Ward, ,Jerwood Drawing Prize, ,Jess Littlewood, ,Joanne Tinker, ,Justin Hammond, ,Juz Kitson, ,Laura Jordan, ,Light Sculpture, ,London Art Fair, ,Love Art London, ,Moth Balls, ,Nomad, ,Oligarch, ,Oona Hassim, ,Papercutting, ,Porcelain, ,Reginald Aloysius, ,review, ,Riots, ,Run Riot Run, ,susila bailey-bond, ,textile, ,The Catlin Guide, ,The Contemporary London, ,Tom Howse, ,UK Uncut, ,Upcycling, ,Vigo Gallery, ,wool, ,Woolff, ,Zak Ove

Similar Posts: